Introduction to Special Collections
About the Collections
The Special Collections of Dallas Theological Seminary include the archives and the library collections of rare books and pamphlets. The archives document the seminary's history by preserving selected institutional records and the presidential papers of Lewis Sperry Chafer, John F. Walvoord, Donald K. Campbell, and Charles R. Swindoll. The archives also include records of the International Council on Biblical Inerrancy and papers of a few individuals associated with the seminary such as W. H. Griffith Thomas and Merrill Unger. The collection of rare books reflects the seminary's theological heritage including rare Bibles, and books on textual criticism, systematic theology, prophecy, and church history.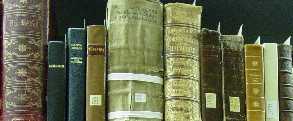 Bibliographic entries for the rare books and pamphlets are included in the library's online catalog, and records for the archival collections are gradually being added. Please contact the archivist for more specific information.
The purpose of Special Collections is to preserve the material and make it available for use. These two goals are sometimes contradictory. Library and archival material would last longer if never used, but then there would be no practical reason to preserve them. The Special Collections are located in closed stacks in Room 219 on the second floor of Mosher Library. Researchers will need to make an appointment to access the material and must abide by the rules for use.
Rules for Use
The Special Collections are open to researchers interested in the holdings. The following regulations are intended to preserve the rare and unique materials while making them available for research. Thank you for your cooperation.
Restrictions: Archives Access Restrictions.
Hours: The Special Collections are open by appointment between the hours of 8:00 AM and 4:30 PM Monday through Friday.
Registration: New patrons must provide photo identification, such as driver's license or student ID, and complete a registration form on their first visit and on succeeding visits if requested.
Location for Use: Researchers may only use Rare books in the Mosher/Turpin buildings at a secure location designated by staff, and archival material may not be removed from Special Collections. Personal belongings should be placed in a designated cabinet, and only paper, pencil, and laptop computer will be allowed in the Special Collections reading area.
Handling:
Notes should only be taken in pencil.
Marks are not to be added or erased from materials.
Papers, note cards, books, or other objects may not be laid on top of materials, and folders should remain flat on the table.
Researchers are asked to handle materials carefully with clean hands, touching only the margins if possible.
The order and arrangement of manuscript materials must be maintained. Do not remove materials from folders.
Use only one box at a time, and remove only one folder from a box at a time.
To mark a place in books or folders, use only acid free strips provided upon request.
Food, drink, gum, or candy may not to be used in the Special Collections room.
Photocopies: The Dallas Theological Seminary Special Collections reserves the right to restrict the total number of copies made and decide whether an item can be safely photocopied. The staff will take reasonable care in making copies, but Special Collections assumes no responsibility for the quality of the reproduction. The applicant agrees to pay the fee upon receipt of the copies.
Digital Images: Patrons may use their own digital camera to take images without a flash. One camera copy stand is available.
Publication: The researcher assumes full responsibility for use of material and for conformity to the laws of defamation, privacy, and copyright.
Citation: Please credit Special Collections of DTS Libraries. Citations of archival or manuscript material in either published or unpublished works should include: [Identification of the Item], [Collection Name], [Collection number], Box [number], Folder [number], Archives, Dallas Theological Seminary.