How to Renew
To renew items you have on loan from DTS Libraries, go to WorldCat, and pick Sign-in in the upper right menu. After you sign-in, you will be able to display the MyAccount menu option.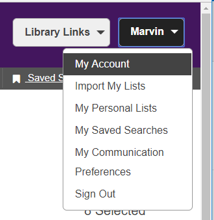 Renewal will be blocked if you have already renewed it the maximum allowable number of times or if your library account is marked delinquent.
The system will issue an error message if a renewal attempt fails.
Renewal of an overdue item will generate an overdue bill but prevent the fine from growing.