Computer and Database Connection FAQ
Here are some technical/computer problems you may encounter when you attempt to connect to a database or other electronic resource. This FAQ does not cover how to search databases or otherwise use them; for that see the Research Methods page.
How do I connect to BIBLOS, the library catalog?
Click the BIBLOS tab in the upper menu of any page of the library website. If you can't find it, read this.
How do I connect to databases?
Read this.
What is my library ID number? My PIN?
If you are a DTS student, your library ID is your student ID and your default PIN is your last name. Extensive information covering ID and PIN problems is available here.
My ID and PIN do not work when I try to login. What should I do?
You should receive a very specific error message when your login attempt fails. However, if the error message just says "ID not found" or "PIN not found", then first double check that you used the correct ID and PIN. Here are some more tips.
In some circumstances, IDs and PINs are case sensitive. Be sure your keyboard CAPS LOCK is not on.
Your browser may be set to remember your ID and PIN. If you incorrectly enter ID or PIN once, your browser may remember the wrong information and transmit that every time. To prevent this in Internet Explorer, select Internet Options from the Tools menu, pick Content and then disable the Autocomplete feature. If you have checks next to Forms or Usernames and Passwords, uncheck those. Also pick the Clear Forms and Clear Passwords buttons. Save the settings. Quit Internet Explorer and then start it again with the new settings in effect.
When attempting to connect to EBSCO databases I receive the following error message: "Cannot extract session SID. To begin a new session, please login again."
Your firewall may be blocking referring URLs. See EBSCO FAQ 1535 for instructions. Send referring URL information to these sites:
*.epnet.com (e.g. www.epnet.com, content.epnet.com, bll.epnet.com (for online help only), web1.epnet.com through web40.epnet.com, weblinks1.epnet.com through weblinks3.epnet.com and maybe linking.epnet.com??)
*.ebsco.com (e.g. ejournals.ebsco.com, support.ebsco.com,content.ebsco.com)
*.ebscohost.com (e.g. search.ebscohost.com )
*.atlaonline.com (needed to download images from ATLAS when searching ATLA via EBSCO)
When attempting to view full articles in ATLA I receive the following error message: ATLA was unable to authorize your account.
You can get this error message if your browser or firewall is suppressing referring URLs (that is, your firewall will not let the referring URL from EBSCO be passed to the ATLAS image servers). See EBSCO FAQ 1535 for instructions. Send referring URL information to these sites for ATLAS articles:
63.136.1.22 (this is an ATLAS image server)
63.136.1.23 (ditto)
purl.org (operates persistent URL that points to ATLA)
*.atlaonline.com
You could also get this error message if you have disabled cookies on your computer. You can disable cookies in your browser and also in your anti-virus software.
Also see the paragraph below about company firewalls for diagnostic hints.
My search of the Internet retrieved JSTOR articles, but I am not allowed to view the articles when I click the link. How can I see these articles?
Internet search engines like Google and Yahoo and MSN Live Search index some restricted-access resources to which the Library has a subscription. For example, Google indexes articles in JSTOR. If you are off the Dallas campus when you search via Google, then you will not be able to access the restricted-access materials unless you login to the library proxy server to authenticate your relation to DTS. Here is how.
I encounter problems when I connect from my place of work, but not when I am at home or on campus. Why?
There are several possibilities.
A firewall or security software may be blocking the connection to the library proxy server. This could be a company firewall or it could be a personal firewall on your computer. First try to go to the library home page at http://library.dts.edu/ and then try to go to the library proxy server at http://ezproxy.dts.edu/login. If you can reach the first but not the second, then a firewall is probably blocking access to the proxy.
Your company may have configured browsers to use their own proxy server. This could possibly interfere with the library proxy, although it is not likely to do so.
Your web browser may be configured to reject all cookies or to disable javascript. Both are required by many of the databases provided by the library. You can check this yourself at the browser diagnostics page.
When I use eBooks on EBSCO, pdf files open in Adobe Acrobat in a separate window rather than in the browser. And I cannot advance to the next page.
An Adobe Acrobat setting controls this behavior. You can set it to display in the main browser window:
Open Adobe Reader.
Go to Edit==>Preferences==>Internet
Click on the "Display PDF in Browser"
When I attempt to open a pdf file, my browser says "File is damaged and cannot be repaired".
Sometimes the error message is false. Configure your browser so pdf files first download to the desktop, then open in your pdf reader. In Firefox, go to Tools ==> Options ==> Applications, and change the setting from "Use Adobe Acrobat(in Firefox)&quot to "Use Adobe Reader x.x (default)".
Where can I get a copy of EndNote?
We no longer have a site license for EndNote.
How can I configure Z39.50 to download records into EndNote?
Many bibliographic citation database management programs like EndNote, Library Master, Papyrus, ProCite and Reference Manager are able to query a Z39.50 server and download records. The DTS library catalog is accessible via Z39.50 protocol. Check the generic Z39.50 settings page for Z39.50 configuration information for any of these products, including an EndNote connection file for BIBLOS. On the other hand, the EndNote import page specifically addresses how to search and import records into EndNote software, using either Z39.50 or filters.
Why do EndNote searches of BIBLOS results in an error message "Unicorn error 194"?
This happens when you specify a particular field to search, like author, title, or subject. As a simple work around, do not specify author, title, or subject. Just use the "Any Field" category.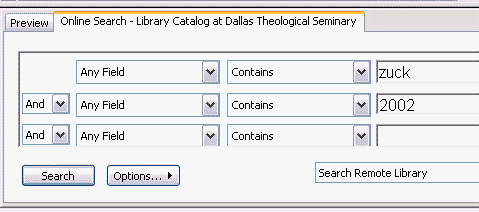 Searches qualified by specific fields used to work, but something mysterious happen late in the summer of 2010 and we have not taken the time to discover the cause.
How can I configure javascript, cookies, etc. in my web browser to work with library databases?
The library provides access to scores of databases and other electronic resources. Some of these resources have special browser requirements such as use of javascript, cookies, and so forth. The browser configuration page will help you adjust your browser to meet most such requirements.
When I try to connect to a database, I am asked to login twice, once at the normal login page, and once at a different page, and the second login always fails. What should I do?
All restricted resources require you to login here. That is the DTS library proxy server login page. If you are able to login there successfully, but then are asked to login to a second, different page, then this probably means there is an error in the EZProxy configuration. Contact the library. Explain what happened. Include the name of the resource you were trying to access.
I got an EZProxy Cookie error. What should I do?
This means your browser reported an error receiving a cookie. Your browser may have cookies disabled. Run browser diagnostics to determine if your browser is set to accept cookies. There you will also find an explanation of what cookies are and how you can set your browser to accept them.
I got an EZProxy Hostname error. What should I do?
Contact the library. Explain what happened. Include the name of the resource you were trying to access and the computer hostname line listed on the error page. We will fix the problem.
Curious about what is wrong? The proxy server configuration file must include all the domains (e.g., epnet.com) and computer hostnames (e.g., ehostvgw3.epnet.com) associated with the restricted resources accessed by library users. Database vendors occasionally add new hosts or change names, sometimes without informing customers. The configuration file must be updated when this happens so you can use the the resources.
The links I save to databases do not work. What is wrong?
You cannot save a search results page because it is a temporary dynamically created page. It is created when you search, and it ceases to exist when you logoff. You can save a link to a database login page. However, links you save to database search pages will probably fail to work because they attempt to circumvent login. Use the links we provide.
Some features (commands) or some links in the database do not work correctly. What should I do?
In other words, you are able to login and to search, but some other feature does not work. For example, you not be able to view the full-text of an article, or printing may fail, or emailing may fail, or clicking certain links may do nothing. This is a very complex problem and there are many possible explanations. You probably need to contact library technical support staff. However, here is some helpful info.
Your browser may be configured incorrectly. Perhaps your browser is not processing javascript or cookies or stylesheets or fonts correctly. See the browser diagnostics page.
The database software may be malfunctioning. Library staff will have to ask the vendor to fix the problem.
The library proxy server may be failing. Library technical staff may be able to solve the problem by adjusting the proxy server configuration file. However, the library proxy server has certain limitations. First, EZProxy cannot proxy links in pdf/Adobe Acrobat Reader files that point to other resources outside the pdf file. The link will be clickable, but it will not proxy, so if you click it, you may be asked to login. Second, EZProxy is sometimes unable to rewrite links when a database vendor uses certain javascript techniques to supply and write links in the target page. The links will be clickable, but they will not proxy, so if you click them, you may be asked to login. Speak to library technical support staff when you are on campus; they can probably provide a link on campus that circumvents the proxy server so you can get the information you need.
The library may not have subscribed (paid for) all features in a certain resource. Library staff can tell you if that is the case.
Firefox can't find the server at some.database.ezproxy.dts.edu but other browsers are working.
This can be caused by the Zotero add-in to Firefox. Uncheck "automatically remember proxy resources" and erase recorded hostnames on the proxy tab of Zotero preferences.
Why am I not receiving email notices from the library?
The library uses email to send notices, including hold pickup notices ("your book is ready for you"), due soon notices ("your books will be due soon; please return or renew on time"), overdue notices, bill notices, etc.
There are many reasons that you might fail to receive the email we send to you. For example, when the library sends a notice to you it might be blocked by a SPAM filter or it might be lost by intermittent Internet failure. SPAM filters are changed daily by ISPs, so what was reliably delivered yesterday could be consistently [or intermittently] blocked today. SPAM problems are difficult to resolve because the mail just disappears with no clues.
Sometimes an email provider will not deliver a message, and instead return it to the library, often with an explanation of why it was not delivered. This will happen if your mailbox is full, your account is inactive/unused for a long time, or that email address has been deleted/terminated. On average, three to six pieces of email are returned to the library every week. This is the most common email problem. When it happens we print the email and send it to a ground mail address such as SIC campus box. This kind of email problem is very easy to resolve because the returned mail provides the needed clues.
If you think library email is failing to reach you, let us know. As of 12/12/2007 keep a log which we hope will help us discern patterns and deal with ISPs. We need to know the following.
your email address
what is not being delivered; whether you are currently receiving some kinds of library notices but not other kinds
whether you have recently changed Internet Service Provider or email vendor
whether you have received email notices from us in the past at this address (and, if so, when you stopped receiving notices)
Also let us know if you have ideas about how we can improve. Our current thinking is that it would be good for DTS to provide email boxes for all students at a single domain. This would probably improve confidentiality and reliability, and simplify support. However, many students are wedded to their present email services, so that might not be popular with some students even if automatic mail forwarding were supported by the DTS account. There are downsides to every option. We welcome your suggestions.
How can I customize the built-in search box in my browser to search BIBLOS?
See this.
How can I obtain Adobe Acrobat Reader or other helper programs?
Many databases provide access to the full-text of articles in pdf format. You must have a copy of Adobe Acrobat Reader installed to read these files. Download Adobe Acrobat Reader. Please notify the library if you discover other helper programs we should link to.
Where can I get help?
Contact library staff for assistance.